Compressed air is a vital utility in almost every aspect of the automotive industry, ranging from vehicle assembly to engine construction and painting and cleaning. A more obvious use includes the auto tire business. From the corporate assembly line to the local auto body shop, air compressors are undeniable assets to the industry. The ever growing influence of the robotic machinery in the production processes of the automotive industry means that compressed air is becoming a vital utility as these machinery heavily rely on compressed air for their operation.
* Paint Shop
* Body Shop – Sanding / Sandblasting / Shot blasting
* Powering Air Tools
* Machine shop equipment
* Stamping
* Air blow guns for cleaning
* Press & Rolling – positioners, clamps, air chucks, Pneumatic Press, and air knives
* Pressure Washers
* Pick & Place
* Air vending for tire inflation
With the modernisation of agriculture through use of advanced machinery to maximise crop yield, compressed air has become an essential utility for farmers. Compressed air is vital when delivering water to crops, livestock and pastures. The resource is needed in nearly every aspect of agriculture both for managing and processing the harvest. Compressed air has also found its use in crop sprayers and other pneumatic tools like conveyor systems and pneumatic material handling machines.
* Conveying feed and grain to and from silos
* Glasshouse ventilation
* Spraying Crops
* Powering Dairy machines
Clean, dry and oil-free compressed air plays a vital role in the various processes of the chemical industry. It is used to supply oxygen to bacteria during fermentation and for oxidation, to produce and transport PET resin beads, to pneumatically transport materials such as PVC, PTA and DMT chips and to power control valves and actuators and to operate measuring equipments (Instrument Air).
* Fermentation and Aeration
* Air Separation
* Pneumatic Transport and Controls Systems
* Powering control valves and actuators
* Instrumentation air
The quality of compressed air used in the food industry is of crucial importance- even the slightest traces of oil can result in altered or polluted product batches and the risk of health hazards for consumers. Compressed air, used in the food industry, must be purified of contaminants like water vapour and moisture, solid particulates (including spores) and oil aerosols and vapours before use. Moisture creates the ideal habitat for microorganisms and fungus. Oil-free compressors can solve this issue and supply contaminant-free compressed air which is a critical component of the various processes in the food industry.
* Clean Room
* Dehydration
* Spraying/rinsing of bottles, test tubes, glassware,…
* Hydrofors (pressurization of water supply)
* Spraying Coatings
* Cleaning
* Cannery
* Air conveyors for PET bottles
* Transfer & Dispensing
* Packaging – Agitation, Transfer, Pressing, Sealing, ..
* Label printers
* Breeding/hatching of fish pond (aeration)
* Controls & actuators
* Barrel Resin Spraying
* Leakage Test for Barrel
* Transmission of Liquids between Barrels
Like the food industry, contaminant-free compressed air is a crucial requirement for the beverage industry. Compressed air free of contamination is used in many applications like air cleaning of containers prior to product filling, transmission of liquids and filling of bottles with liquids.
* Spraying
* Transmission of Liquids
* Unloading of Grains
* Leakage Test for Barrels
* Automatic Bottle Filling Machines
* Instrumentation Air
Compressed air plays a vital role in any manufacturing plant given their requirement along every stage of the process. Compressed air is used like an energy source, powering equipment and tools for a more reliable and efficient utility from the simple task of inflating tired to the more demanding nature of an a manufacturing operation.
* Powering Air Tools
* Machine shop equipment
* Adjusting Rollers and Feed Machinery
* Press & Rolling – positioners, clamps, air chucks, Pneumatic Press, and air knives
* Cutting and Welding Equipment
* Ejecting Pieces from Production Lines
* Surface Finishing for Coating – Sanding / Sandblasting / Shot blasting
* Stamping
* Transfer & Dispensing
* Injection molding
* Spraying
* Air Cleaning
High technology equipment used to manufacture electronic components use compressed air extensively to operate with the precision and speed demanded by the industry and it is vital to ensure that the compressed air used in these sensitive machines are oil-free. Compressed air is used to blow the boards clean after production and to power the pneumatic machines for component conveying.
* Pick and place machine
* 3D Printers
* Hi-voltage pneumatic circuit breakers
* Air Cleaning
Modern manufacturing processes in the pharmaceutical industry are heavily reliant on compressed air to power the machinery. It is also vital for a sterile environment to be maintained in the pharmaceutical industry and so only oil-free compressors are used in the pharmaceutical industry.
* Product Conveying
* Spraying coatings
* Maintaining Pressure in mixing and holding tanks
* Spraying/rinsing of bottles, test tubes, glassware,
* Bottling
* Packaging – fill & seal
* Label printers
* Instrumentation Air
* Gas & Vacuum sealers
Compressed air is a vital utility in the rubber, plastics and packaging industry. The plastics industry employs compressors throughout the manufacturing process, from tools and material handling to production/assembly lines and the cleaning of equipment and facilities.
* Blow Molding – Pet Bottles
* Injection Molding
* liquid padding, carton stapling, appliance sanding,
* dry powder transporting and fluidizing
* Label printers
* Air Ionization
Producing electricity in the most efficient manner requires continuous control and monitroring of the flow of steam and condensate, as well as levels in the heat exchangers. Instrument-air quality compressed air (Instrument Air) is used in the instruments that monitor flow, level, pressures, and temperatures. The throttling operation of air operated valves (AOV's) is used to control the level and flow. Compressed air is also used as emergency power for starting the diesel engines ( Starting Air). In hydroelectric power plants, compressed air is used in pneumatic brakes, adjusting turbine blades and valves, blowing out water to reduce starting load and to prevent pulsation & cavitation.
* Starting gas Turbines
* Ash Handling
* Air Knives
* Instrumentation Air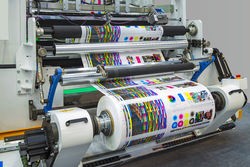 The delicate and flammable nature of paper requires pneumatic machines oil-free compressed air to operate the machinery involved in the various processes. Applications like paper pressing done using pneumatic cylinders, frictionless transfer of heavy materials using thin film of air, operation of printing pumps & equipments.
* Scanners for off-set film/newspaper printing
* Charging Printing Machines with Paper
* book-binding
* Cleaning
In the textile industry, compressed air is an absolute necessity along every level of the manufacturing process powering the various advanced machinery involved in the process and also the various tools & equipments used in cleaning and maintenance of the machinery. 
* Spinning
* Weaving
* Textile industry (sewing machines)
* Garmenting
* Texturizing
* Cleaning
Powering Pneumatic Tools & Equipments in Onshore & Offshore exploration applications like seismic exploration using air guns.
* Offshore exploration
* Onshore exploration
Waste-water treatment requires compressed air for the primary treatment of sewage water which involves the removal of gross, suspended and floating solids from raw sewage by mechanical agitation (stirring). The deep sedimentation tanks used in the secondary treatment process also need air compressors that can produce high-pressure. Compressed air also plays a vital role in the backwash process during the tertiary treatment to remove the impurities and other undesired particles from the sand filters.
* Stirring
* Backwashing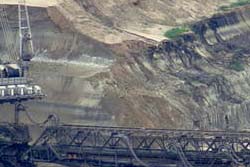 The rigorous and demanding environments of the mining industry combined with the safety challenges of the personnel and the equipment means that compressed air has been an invaluable source of both energy and safety equipment for the hard-to-reach places were minerals and fossil fuels reside. Through the use of industrial air compressor systems, electric and pneumatic tools are used in drilling, material handling, transportation, mineral extraction and complex ventilation systems.
* Rock Drilling – Construction, Demolition, Quarry, Public Works etc.,
* Pneumatic Hammer
* Air Pick
* Transfer / Conveying – Pneumatic Hoist
* Drilling Rigs
* Ventilation
* Electric Power
Compressed air finds many applications in cement plants but are primarily used for transmission of raw materials. They are also used for mixing the raw materials in proportionate mixture. Compressed air is also used in aiding combustion process in the kiln and to cool down the clinker temperature to improve quality, eat recovery and to bring them to optimal grinding temperatures. 
* Transporting raw material – dry / wet treatment plants
* Fuel & Combustion Air for Kiln
* Quenching of Cement Clinker
* Ventilation of warehouse
* Instrumentation Air
* Electric Power